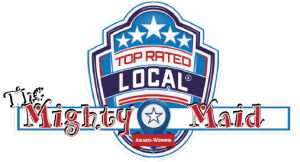 We take pride in our attention to detail, honesty, reliability, and respecting your privacy!
Welcome to an award winning, owner operated, local cleaning company. When you hire us for our cleaning services,  you get a team of processional cleaners with the tools, supplies, skills, and experience to deliver exactly what you paid for and thats the most complete, most thorough professional housekeeping services available! We are constantly looking for ways to better our housekeeping and commercial cleaning services to bring you the best results possible.

We want to keep your home as clean as possible even when we are not there and the Roomba® i7+ vacuum is just the tool we need to deliver the clean home you deserve.

Our weekly/bi-weekly Fresh Start Maid Service includes the powerful Roomba® i7+ membership to keep your home cleaner between services. There are no contracts and you can cancel your service anytime.
Because a Roomba® i7+ vacuum is self-sufficient and self-operating, it is an ideal product to leave in your home for in-between service to keep your home cleaner and help us maximize the amount of time spent on housecleaning.
Nobody will do it better – Nobody!
Our maids specialize in deep house cleaning from top to bottom and nothing goes untouched. The days of a house cleaner with a mop, bucket and vacuum are over. Today a professional is entrusted with the care of a home, its furnishings and the health of its occupants. With the many new materials and surfaces being used in home décor, a professional house cleaner has a much broader range of knowledge than in the past as many of these newer surfaces require specialized care. Our team of Mighty Maids are far and away the best there is! Our home and business cleaning service prices are reasonable and we provide a free Online Instant Estimate, or we will come out to your location for a free on-site estimate.
Our goal is for our maid service to exceed your expectation and form a long-term relationship that delivers a clean home or business like you deserve. We promise to complete the cleaning services like it was our own home. We want you to have the same feeling we have when walking into a clean home or business because you deserve it! Make the right choice and call us now, The Mighty Maid!
100% Satisfaction Guaranteed!
Licensed and Insured
Owner Operated
Employee Background Checks